NEW SINGLE DOSE OF LUBRICANT FOR HAND
PIECES IN OPERATING THEATRE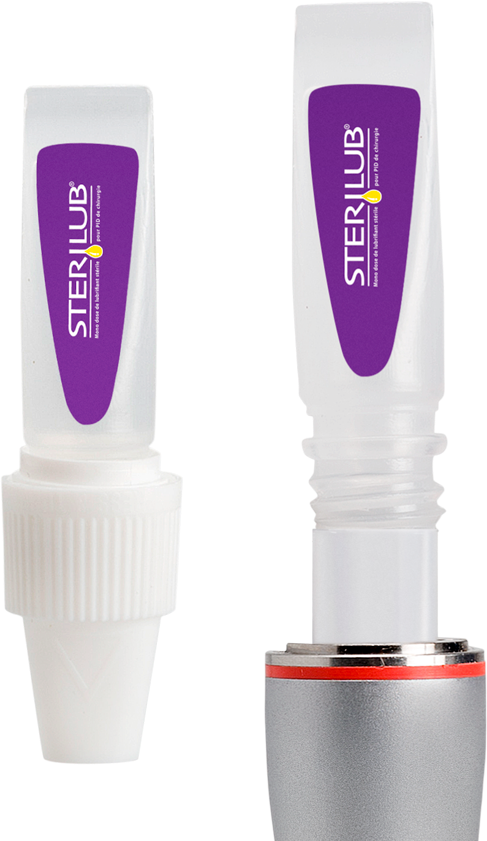 The advantages of STERILUB are:
- Handpieces are sterilised clean and dry (because they are lubricated after Sterilisation).
- No more black liquid on the pouches after sterilisation
- The oil retains all its qualities because gamma ray sterilisation operates at a low temperature.
- No more seizure during the operation
- It is the only process of its kind on the international market for handpiece lubrification.
Medical / Medico economic benefits :
- Handpieces perfectly sterile and perfectly no therefore risk for the patient.
- Sterile oil in accordance with the requirements of the European pharmacopoeia.
- Exact amount of oil thanks to the single dose.
- No more expensive repairs of your handpiece
- Single dose made of 100% recyclable polyethylene and can be used with any handpieces..
I have been supplying dentists, stomatologists, neurosurgeons well as maxilla-facial, ENT and orthopaedic surgeons for thirty years. The hand pieces are straight and contra angle at the end of which the surgeon fixes a tungsten or diamond surgical bur.
I obtained my degree in hospital and industrial sterilisation in the pharmaceutical department of Nantes university.
Thanks to my professional experience and my medical training I have on the one hand considerable knowledge of the medical field, hospital regulations and good practice for dental surgery. On the other hand, I have noticed a lack of respect for the basic rules of sterilisation and lubrification practice.
…I also supply GAMASONIC ultrasonic disinfecting washers to wash a wide range of medical instruments, including straight and contra angle handpieces.
The concept
Between every operation even mundane the instrument must be disinfected, cleaned, dried and sterilised.
After cleaning and drying the handpieces, current practice in all car facilities is as follows:
Lubrification
Sterilisation
Storage
Use.
There are three major problems with this procedure:
- The rule is "We sterilise instruments only when they are clean and dry". But with the oil inside they are not clean and not dry.
- In the sterilisation process, the air is expelled several times and the oil is expelled when the air is expelled. So, when the surgeon uses the handpiece there is little or no oil left inside.
- The remaining oil inside the handpiece is burned during the sterilisation process at 134° because oil burns from 100°. So, when the surgeon uses the handpiece what little oil is left is burnt. Consequently, the handpiece often overheats and breaks, and if it is during the operation it could be dangerous for the patient.
After making this finding I developed a single dose of sterile lubricant (for single use) with a universal tip adaptor. This single dose is in double sterile packaging to use directly in the operating theatre just before the operation. This innovation is called STERILUB.
We can use STERILUB to lubricate the handpieces and contra angles for dentists, stomatologists, neurosurgeons as well as maxillo facial, ENT and orthopaedic surgeons. For all surgeries that use E-TYPE micromotors.
Contact me
Christophe MICHEAU
14, impasse de la Fosse
81100 CASTRES
07 85 57 77 94
Link to email